Kevin Grant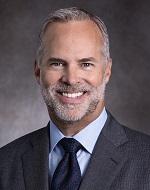 Kevin is Co-Chairman, Partner, Portfolio Manager and Investment Analyst at Harris Associates, LP.  He joined Harris Associates in 1989 as an IT specialist and transitioned into a Senior Research Analyst role in 1994.  Kevin has been Co-Manager of the Oakmark Fund since 2000 and Co-CEO/Chairman since 2014.  He holds a B.S. in Computer Sciences from the University of Wisconsin–Madison and an M.B.A in Finance from Loyola University–Chicago.
Why I love Wisconsin CS:
Wisconsin CS gave me the computational-thinking structure that has served as a problem-solving foundation throughout my career. In addition to the intensive coursework, I benefited from the Wisconsin culture and the networking opportunities that were offered. I've been fortunate to see my son and my daughter graduate from the University of Wisconsin–Madison.