RED Talks bring industry technology leaders to campus to share their exciting work and offer an insider perspective. 
Tech Spotlight
Technical industry experts and leaders will connect with students and faculty discussing their company's latest research, product development, and business strategy.
Tech Leadership
Organizational and thought leaders in the tech space will share how they navigated their landscape to develop successful companies, products, and programs. Tech Leadership talks provide insight into successful strategies and include speakers' vision and predictions for the future.
Future Talks
The 2020-2021 RED Talk season is complete and we are on hiatus for the summer. We look forward to more RED Talks from speakers with diverse expertise starting in September 2021.  Join our mailing list to be the first to know about upcoming talks.
For questions or ideas for topics and speakers, email: info@cdis.wisc.edu.
Upcoming RED Talks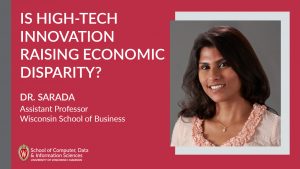 Sarada, Assistant Professor, Wisconsin School of Business
Thursday, October 28th, 4:00 pm
Sarada discusses the economic impact of technology and innovation on people around the world.