Diversity is a source of strength, creativity, and innovation for UW–Madison. We value the contributions of each person and respect the profound ways their identity, culture, background, experience, status, abilities, and opinion enrich the university community. We commit ourselves to the pursuit of excellence in teaching, research, outreach, and diversity as inextricably linked goals.
The University of Wisconsin–Madison fulfills its public mission by creating a welcoming and inclusive community for people from every background — people who as students, faculty, and staff serve Wisconsin and the world.
Supporting the Student Experience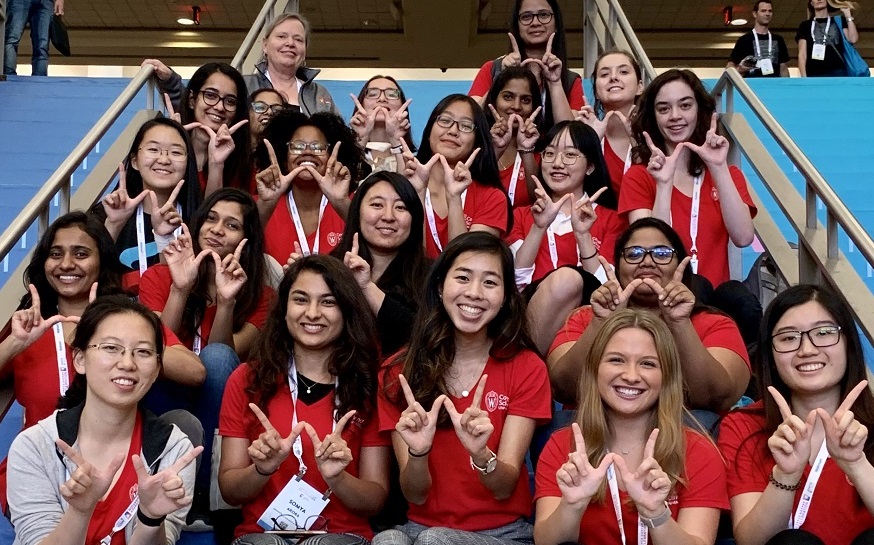 Women's Association for Computing Machinery (WACM)
WACM is the University of Wisconsin-Madison's student chapter of ACM-W, ACM's Women in Computing. We provide social, educational, and outreach activities for women in the Computer Sciences department, in the university, and in the surrounding community.
Travel Funding for Conferences
The Computer Science department sends faculty, students, and staff to conferences focused on improving diversity and inclusion in computing and supporting students from underrepresented groups.
This is an accordion element with a series of buttons that open and close related content panels.
The Grace Hopper Celebration
The Grace Hopper Celebration of Women in Computing is a series of conferences designed to bring the research and career interests of women in computing to the forefront. It is the world's largest gathering of women in computing. In fall 2020, we funded 64 students to participate virtually.
The Tapia Celebration of Diversity in Computing
Educational Opportunities
WES-CS is a set of fun, interactive study groups for students who are enrolled in CS 200 (Programming I) and CS 300 (Programming II). All students currently enrolled in either CS 200 or CS 300 may apply. WES-CS especially welcomes and supports students from groups underrepresented in computer science and students who are new to programming or the computer sciences. Through weekly meetings led by peers, you'll earn one additional credit and gain greater mastery of introductory computer science course material. It's a great way to enhance your introduction to the challenging, exciting, and varied field of computer science.
The CS department expanded the CS Learning Center to offer tutoring sessions in partnership with the Multicultural Learning Center and the Multicultural Student Center. The CSLC is possible through the generous gift of Sheldon and Marianne Lubar.
The WISCERS program is a new mentorship program focused on fostering CS research participation among undergraduate students at UW-Madison. This program will expose students to research areas in Computer Science, facilitate peer mentorship from graduate students working in different areas, and match students with faculty for summer research internships. Our broad goal is to encourage undergraduate students to apply for research-based graduate programs and specifically help support students from historically underrepresented groups in computing.
This program is partially funded by an exploreCSR award from Google. Part of the funding for the summer research internship program is generously provided by the Computer Sciences Department at UW-Madison.
The Computer Sciences Learning Center (CSLC) offers FREE drop-in tutoring for select CS intro courses. Students can get help from our CSLC peer tutors, but are also welcome to use the space as an open and comfortable study environment.
Faculty and Inclusive Teaching
Mercile J. Lee Mentor-Friends: With a guiding philosophy of "Excellence in Scholarship, Leadership, and Service," the mission of the UW-Madison Mercile J. Lee Scholars program is to help academically talented and outstanding young people further the development of their intellectual gifts, abilities, skills, and potential. In addition to providing Scholars with a substantial financial award, the programs' components allow Scholars to build meaningful relationships with faculty, staff, and peers in the campus community. Nine members of the CS department (faculty and staff) signed up and were selected as Mercile J. Lee mentor-friends.