Diversity is a source of strength, creativity, and innovation for UW–Madison. We value the contributions of each person and respect the profound ways their identity, culture, background, experience, status, abilities, and opinion enrich the university community. We commit ourselves to the pursuit of excellence in teaching, research, outreach, and diversity as inextricably linked goals.
The University of Wisconsin–Madison fulfills its public mission by creating a welcoming and inclusive community for people from every background — people who as students, faculty, and staff serve Wisconsin and the world.
Make Your Voice Heard!
Serve as a Student Representative for Diversity, Equity & Inclusion Efforts in CS!
The UW Computer Sciences Diversity, Equity and Inclusion (DEI) Committee is seeking two graduate students and two undergraduate students to serve on the 2022-2023 committee and provide student insight and feedback on departmental diversity, equity and inclusion efforts.
The CS DEI Committee is comprised of CS faculty, staff, and students. The committee addresses departmental needs and gaps related to DEI; assesses and discusses current DEI activities and topics; and sets goals and key milestones for advancing representation and inclusion.
Students on the committee will be asked to attend the committee's hour-long, bi-weekly meetings and serve as a student voice on DEI topics, providing key feedback and insights.
If you are interested in serving on the committee, please email the following materials to Kayla Gross, Inclusion Program Manager, at kayla.gross@wisc.edu by 12:00PM on Wednesday, April 20, 2022:
· Resume or CV
· 1-page or less response to the following question:
o What has influenced your thinking around diversity and inclusion and motivated you to get involved with the CS Diversity and Inclusion Committee as an advocate for change?
Students who apply should 1) be a CS major or graduate student and 2) be able to serve for the entirety of the 2022-2023 academic year.
The committee will review all applications and will evaluate students based on their 1) level of past involvement and/or experience with matters related to diversity, equity and inclusion, and 2) interest in joining the committee.
Please contact Kayla Gross at kayla.gross@wisc.edu if you have any questions.
Spring 2022 Diversity, Equity & Inclusion Speaker Series
All members of the UW-Madison community are welcome to attend and learn from industry experts about ways to advance diversity and inclusion in computer science.
Join us in person for this series of one-hour presentations followed by lunch and an opportunity for discussion. Food will be provided. Presentations will also be streamed via Zoom.
Contact Kayla Gross, Inclusion Program Manager, at kayla.gross@wisc.edu with questions or to request accommodations.
Past lectures

Student Experiences in Early CS Classes: Research and Recommendations
Dr. Christine Alvardo
University of California-San Diego
Description: High levels of attrition in early CS courses are frequently reported, and students from groups underrepresented in computing–including women, Black, Latinx and Native American students–often drop out at higher rates.  While it is clear that students are struggling, what is not well understood is students' detailed experience in these courses.  Our work examines the barriers students face in early CS courses via a lightweight survey instrument that we developed and administered regularly in several lower-division programming courses over multiple quarters.  We found that students face a variety of (and many) barriers in these courses, and the barriers faced differed by gender and race.   Additionally, we found that the survey itself was a useful pedagogical tool in detecting and supporting struggling students throughout the course.  In this talk I will discuss our research results as well as how this survey instrument has led to pedagogical improvements in personalized support for students in early CS courses.
Bio: Christine Alvarado is a Teaching Professor in the Computer Science and Engineering (CSE) Department and Associate Dean for Students in the Jacobs School of Engineering at University of California, San Diego.    Her current efforts are focused on designing curriculum and programs to make computing and computing education more accessible and appealing, with the specific goal of increasing the number of women and Black, Latinx, Native American and Pacific Islander students who study computing.
Inclusive Teaching – Evidence & Practice
Dr. Markus Brauer
Department of Psychology,
UW-Madison
Description: Students belonging to marginalized groups tend to underperform in academic settings, a phenomenon called the "achievement gap" (or the "opportunity gap"). It turns out that instructors' attitudes and behaviors play a major role for the achievement gap. Dr. Brauer will review a series of so-called "inclusive teaching practices" that have been shown to reduce the achievement gap in large scale randomized controlled trials.
Bio: Markus Brauer is a professor in the Department of Psychology and in the Wisconsin School of Business at the University of Wisconsin-Madison and the Director of The Brauer Group.  As a social psychologist, Brauer studies the social aspects of human cognition and behavior.  He develops and tests interventions aimed at changing people's behaviors in a variety of domains, such as diversity, energy consumption, and workplace behaviors.
CANCELLED:
African Americans' Attitudes Toward STEM: Implications for Educational and Occupational Decision Making
Dr. Jerlando F. L. Jackson
UW Educational Leadership and Policy Analysis
Description: According to the Bureau of Labor Statistics, science, technology, engineering, and math (STEM) occupations constitute a growing sector of most states' economy. However, the number of African Americans earning degrees related to these occupations has not kept pace with this growth. Increasing the participation of African Americans in STEM education fields and subsequent related occupations is a vital part of growing and maintaining a state's economic stature. This objective is made even more compelling given the projected average annual number of jobs in STEM fields. For this presentation, Professor Jackson explores the extent to which the attitudes held by African Americans in a State toward STEM-related majors and careers influence their likelihood of joining the state's scientific workforce.
Bio: Dr. Jerlando F. L. Jackson holds both the Rupple-Bascom Professor of Education and Vilas Distinguished Professor of Higher Education at the University of Wisconsin-Madison. In addition, he serves as Department Chair of Educational Leadership and Policy Analysis and the Director and Chief Research Scientist of Wisconsin's Equity and Inclusion Laboratory (Wei LAB). Professor Jackson is an elected Fellow of the American Association for the Advancement of Science in 2021 and a member of Sigma Xi Scientific Research Honor Society.
Supporting the Student Experience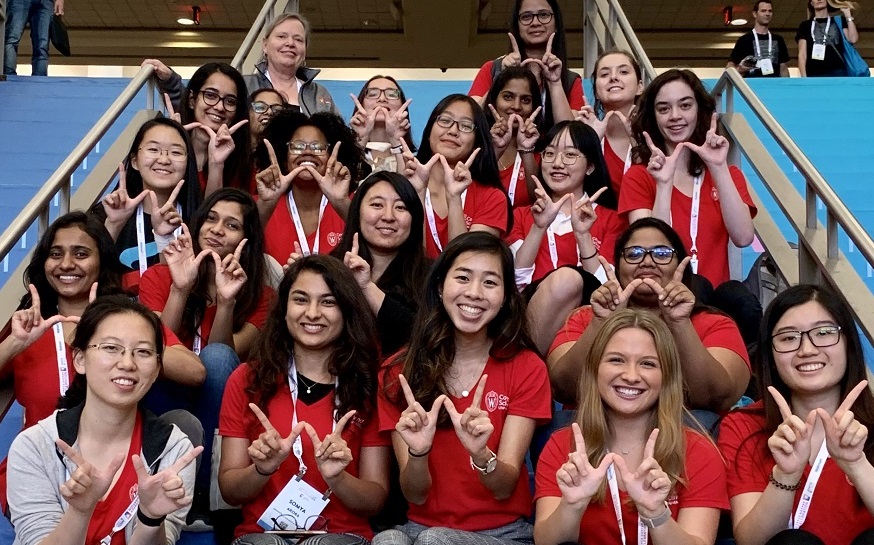 Women's Association for Computing Machinery (WACM)
WACM is the University of Wisconsin-Madison's student chapter of ACM-W, ACM's Women in Computing. We provide social, educational, and outreach activities for women in the Computer Sciences department, in the university, and in the surrounding community.
Travel Funding for Conferences
The Computer Science department sends faculty, students, and staff to conferences focused on improving diversity and inclusion in computing and supporting students from underrepresented groups.
This is an accordion element with a series of buttons that open and close related content panels.
The Grace Hopper Celebration
The Grace Hopper Celebration of Women in Computing is a series of conferences designed to bring the research and career interests of women in computing to the forefront. It is the world's largest gathering of women in computing. In fall 2020, we funded 64 students to participate virtually.
The Tapia Celebration of Diversity in Computing
Educational Opportunities
WES-CS is a set of fun, interactive study groups for students who are enrolled in CS 200 (Programming I) and CS 300 (Programming II). All students currently enrolled in either CS 200 or CS 300 may apply. WES-CS especially welcomes and supports students from groups underrepresented in computer science and students who are new to programming or the computer sciences. Through weekly meetings led by peers, you'll earn one additional credit and gain greater mastery of introductory computer science course material. It's a great way to enhance your introduction to the challenging, exciting, and varied field of computer science.
The CS department expanded the CS Learning Center to offer tutoring sessions in partnership with the Multicultural Learning Center and the Multicultural Student Center. The CSLC is possible through the generous gift of Sheldon and Marianne Lubar.
The WISCERS program is a new mentorship program focused on fostering CS research participation among undergraduate students at UW-Madison. This program will expose students to research areas in Computer Science, facilitate peer mentorship from graduate students working in different areas, and match students with faculty for summer research internships. Our broad goal is to encourage undergraduate students to apply for research-based graduate programs and specifically help support students from historically underrepresented groups in computing.
This program is partially funded by an exploreCSR award from Google. Part of the funding for the summer research internship program is generously provided by the Computer Sciences Department at UW-Madison.
The Computer Sciences Learning Center (CSLC) offers FREE drop-in tutoring for select CS intro courses. Students can get help from our CSLC peer tutors, but are also welcome to use the space as an open and comfortable study environment.
Faculty and Inclusive Teaching
Mercile J. Lee Mentor-Friends: With a guiding philosophy of "Excellence in Scholarship, Leadership, and Service," the mission of the UW-Madison Mercile J. Lee Scholars program is to help academically talented and outstanding young people further the development of their intellectual gifts, abilities, skills, and potential. In addition to providing Scholars with a substantial financial award, the programs' components allow Scholars to build meaningful relationships with faculty, staff, and peers in the campus community. Nine members of the CS department (faculty and staff) signed up and were selected as Mercile J. Lee mentor-friends.