What is WES-CS?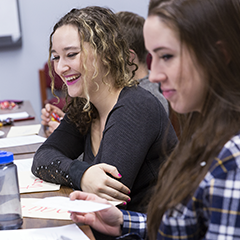 WES-CS (CS 304) is a fun, interactive study group for students who are new to programming or the computer sciences. All students enrolled in CS 200 (Programming I) may apply. The program especially welcomes and supports students from groups underrepresented in computer science. Through weekly meetings led by peers, you'll earn one additional credit and gain greater mastery of CS 200 material. It's a great way to enhance your introduction to the challenging, exciting, and varied field of computer science.
The WES-CS program was started in 2004 by Professor Susan Horwitz, with the goal of providing a supportive, collaborative, and challenging environment, where diverse groups of students can explore computer science through interesting problem-solving activities in small groups.

What do WES-CS students do?
Learn in small, peer-led groups of about 8-10 students
Gain computing confidence and master fundamental principles
Learn about career paths through visits to local tech companies and dinners with special guests
Make lasting friendships
Have fun!
How can I enroll?
To request authorization to enroll, please fill out this brief form. Students who are authorized for the study group should add CS 304 to their class schedule and then attend during the scheduled meeting time. When enrolling, be sure to select the 1-credit option. If you have additional questions, please email advising@cs.wisc.edu.
What past participants have to say
"My group leader didn't move on unless the content was understood by all, which was very helpful."
"My team leader was great and always tried to answer any questions I had.  She explained things well, and with just enough information so that I could try work it out on my own."
"WES CS 304 was always really fun and extremely useful."