First responders make split second decisions under stressful conditions that may make the difference between life and death. Thanks to UW-Madison Computer Sciences professor Suman Banerjee and his team, the tools first responders rely on are about to become more reliable.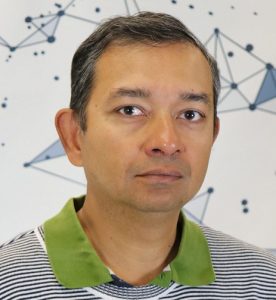 Banerjee, Computer Sciences professor Yuhang Zhao, and Design Studies professor Kevin Ponto have received a grant from the National Institute of Standards and Technology (NIST) to enable first responders to utilize augmented reality (AR) headsets so they can make better split-second decisions in their challenged environments. In particular, AR devices – that will be used for improved navigation, coordination, object detection and more – require significant computational capabilities, which in turn makes them bulky and power hungry. The UW team plans to develop a portable on-premise edge-compute platform to aid AR devices by offloading computation and also to incorporate new collaboration capabilities across them. Among other benefits, this will prevent AR devices from overheating or the battery draining too quickly and ceasing to function – very important for a firefighter in a burning building, for example. AR devices not only help the firefighter navigate through the building but also help them communicate with other public safety personnel who are on the scene, reducing response time and increasing the survivability rate.  
The system the team is designing, called EasyVizAR, aims to help first responders gain improved situational awareness and navigational abilities in indoor environments using conventional AR devices; improve collaboration between multiple personnel, potentially from different agencies, in a secure and robust manner; and improve the battery life of AR devices while meeting the above goals not possible otherwise. They plan to build and release the system through the open source path so the software can be easily shared and adapted. 
The NIST award is part of the Public Safety Innovation Accelerator Program: Augmented Reality (AR) competition, for accelerating research and development (R&D) around the use of AR for improving public safety user interfaces. 
 Principal Investigator Suman Banerjee is a leader in the domain of mobile computing and wireless systems and has led the development of some critical edge computing techniques to support efficient machine learning tasks for object detection, person identification, and more
Co-Principal Investigator Yuhang Zhao is an expert in human-computer interaction, augmented/ virtual reality, and assistive technology
Co-Principal Investigator Kevin Ponto has a rich history of working with 3D datasets and emerging technology and has led research efforts that utilize 3D scanning for purposes of crime scene investigation, cultural heritage and the study of health in the home