By Elea Levin
There is no such thing as a typical week in Computer Sciences 202: Computer Science Principles, taught through the UW-Madison Summer Collegiate Experience (SCE) program. From speakers to labs to opportunities for students to share what personally interests them most, Information School Faculty Associate Dorothea Salo described an outline for the course that sounds anything but typical for an introductory computer science class.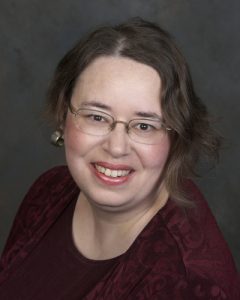 "We talk about impacts of computing on society, have guest speakers to show off the breadth and fascination of computing-related careers and research, and do some introductory programming in Scratch," Salo said.
The Computer Sciences Department and the iSchool have come together this summer to offer this course to all interested incoming freshmen but particularly to introduce computer science to students who haven't previously had access to the subject. Students in SCE typically are part of the PEOPLE program, designed for low income and first generation college students, First Wave Scholarship students, who are part of the hip hop & urban arts learning community, and students from the Center for Academic Excellence (CAE), who have been historically underrepresented in higher education. 
This was the first year that the Computer Sciences Department, or any department in the School of Computer, Data & Information, participated in SCE. The program is being taught remotely this year, and while the majority of the 13 students in the class are from Wisconsin and surrounding states, there is one student who tunes in all the way from Brazil.
"At this point, we're all well acquainted with online learning, and the experience has been smooth so far," said Adil Ahmed, a Computer Sciences graduate student who works as the Teaching Assistant for CS 202. "While I do believe there isn't a substitute for the energy of an in-person discussion or lab session, the students have taken it in their stride," he said.
The class covers a variety of topics related to computer science, including technology and its impact on our lives, technical definitions and topics in computing, and how technology is changing. 
"CS 202 is a friendly introduction to computing. It is designed for relative beginners, especially people who don't plan to major in Computer Sciences but understand that computing is still important to their career and life goals," Salo said.
"They deserve the world while they're here, and if I can help with that, I want to." – Dorothea Salo
Because the class is at an introductory level, it gives students a chance to learn more about the Computer Sciences Department and see what their interests are. 
"For prospective CS majors, the course can provide a gentle introduction into computing and a bird's eye view of computing fields in general," Ahmed said. "For everyone else, they can take away an appreciation and understanding of computer science that may eventually be relevant in their chosen fields."
Salo also emphasized that the class is valuable for both students who are interested in majoring in Computer Science and those who generally want to learn more about the field.
"I can say that about half the class is seriously considering a CS or software engineering major, and I've gotten a couple interested in the Digital Studies certificate too," Salo said. "For myself, I'd be happy to see any of these students in the other courses I teach that are open to undergrads – Information Security and Privacy or Code and Power."
Salo recognizes the inequities that exist in computer science and hopes that participating in SCE will help to address some of these disparities.
"I can't erase that societal programming – so to speak – in just one CS 202 class, but I can at least try to level a playing field or two," Salo said. "Information and education equity has always been a major motivator for the iSchool, so we're glad to work with SCE and its partner programs."
Ahmed hopes that in addition to learning some technical aspects of computer science, students are able to learn more about the impacts of technology on society.
"While we do cover a lot of technical material and some fun programming exercises, I hope that the course encourages students to think deeper into how technology affects people," he said.
Salo believes that the course may help students to thrive once they officially start their undergraduate career and hopes they will walk away with the tools they need to be successful in the future.
"I hope and believe [the course] is a jumpstart on college success. These folks have been through so much already – their senior year of high school in a global pandemic! – and they're so brave and talented and delightful," Salo said. "They deserve the world while they're here, and if I can help with that, I want to."