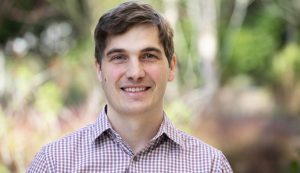 Associate Professor of Computer Sciences Loris D'Antoni has been awarded the 2021 Phillip R. Certain-Gary D. Sandefur Letters & Science Distinguished Faculty Award. This award honors a faculty member in the College of Letters and Sciences and recognizes their outstanding teaching. 
Honorees for the award are nominated by the academic Associate Deans in the college and selected by the Dean.
"This award was a beautiful surprise, and it's great to see my name among so many great teachers who received it in the past," D'Antoni says. He is delighted to receive this award.
D'Antoni earned Bachelor's and Master's degrees in Computer Science from the University of Turin. He went on to earn a PhD in Computer Science from the University of Pennsylvania. He is the recipient of a Microsoft Research Faculty Fellowship, an NSF Career Award, and a Facebook TAV Research Award.