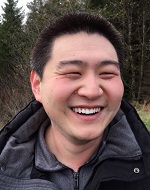 Ming Liu joins the UW-Madison Computer Sciences Department as an assistant professor after earning his PhD in Computer Science and Engineering from the University of Washington. His research focuses on networking and systems and using new network hardware trends to develop new, cost effective software systems. 
Hometown: Helong, China
Educational/professional background:
I earned my PhD in Computer Science and Engineering at University of Washington.
How did you get into your field of research?
During my graduate school visit at University of Washington CSE, my PhD advisors (Arvind Krishnamurthy and Luis Ceze) pitched the in-network computing project to me. The idea of performing computation during packet transmission is very intriguing. After I joined, I started to work on this project and built an in-network caching system called IncBrick, which serves key-value requests directly from a switch-attached networking processor. I really enjoyed exploring how to use different kinds of programmable network hardware to improve distributed system performance and delving into this field.
Could you please describe your area of focus? 
I work on networking and system, with a focus on programmable networks, disaggregated storage, and emerging cluster interconnects.
What main issue do you address or problem do you seek to solve in your work?
The fact that network bandwidths continue to increase dramatically, significantly outpacing the modest improvements in CPU performance, has challenged our conventional wisdom regarding how to build a low-latency and energy-efficient computing system that can keep up with the network speeds. My research takes advantage of emerging network hardware trends and develops new software systems based on these new capabilities for different kinds of applications.  
What's one thing you hope students who take a class with you will come away with? 
Networking teaches us how to build scalable and manageable systems in a cost-effective way. I hope students could apply the key design principles we learn in the class to solve challenging problems from other areas.
What attracted you to UW-Madison?
Our Computer Sciences Department is very strong. We have top researchers from different fields, and I can see lots of collaboration opportunities. 
What was your first visit to campus like?
My first visit was when I moved to Madison. I visited the Camp Randall Memorial Arch with my wife and son.
What are you looking forward to doing or experiencing in Madison?
The farmers' market.
Do you feel your work relates in any way to the Wisconsin Idea? If so, please describe how.
Network is everywhere. Building fast and cost-effective networked systems will impact everyone's life. To achieve this, my research takes a bottom-up approach to explore emerging (network) hardware capabilities and develop new systems stacks for various applications.
Hobbies/other interests:
I play soccer.