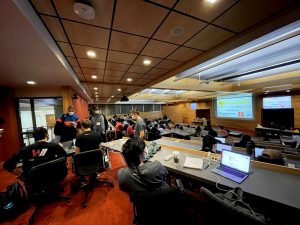 by Elea Levin
Over 100 students participated in the first ever CheeseHacks hackathon event October 23 and 24, hosted by the UW-Madison Google Developers Student Club and UW Web Dev Club.
The Hackathon aimed to help students "gain development experience in building web applications to address real-world issues." The event organizers also facilitated four workshops prior to the event focused on topics like website building coding in order to help participants prepare.
The first day of the event went from 12:00 p.m. to 12:00 a.m., and some students even stayed overnight to work on their projects, which were judged the next day. In addition to working on their projects, students heard from guest speakers, participated in skills challenges, played games, and were provided with meals and snacks, including lots of cheese.
"We had so much fun in organizing the event and loved the turn-out, dedication and work that our participants have put in for the event," said Swathi Annamaneni, President of the Google Developers Student Club.
Students were challenged to design projects that address real world problems. Team  Monomer won the competition out of the six finalists. The winning team created a web application designed to help make websites and other online programs more accessible for people who are deaf and blind.
CheeseHacks was an overall success and students who participated were able to gain hands-on experience developing skills that are applicable outside of the classroom. 
A video of the final six projects being presented to the judges is available here, and a livestream of the full hackathon can be viewed here.