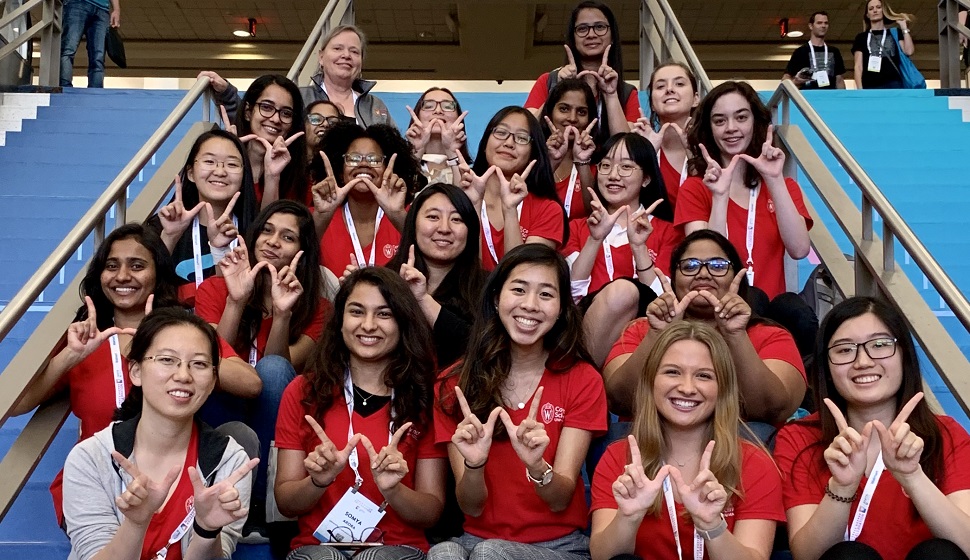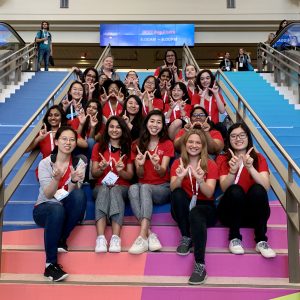 Women technologists of the world, unite! Eighteen UW-Madison Computer Sciences Department students attended the 2019 Grace Hopper Celebration (GHC), the largest gathering of women technologists in the world, in early October in Orlando, FL. In 2018 over 20,000 attended from 78 countries – in 2019 that number was closer to 25,000.
At the event, the contributions and accomplishments of women in the field of computing were highlighted, and "students and professionals attended technical, career, and poster sessions, participated in the career fair, and networked within the worldwide community of women in tech," according to WACM (the UW-Madison women's chapter of the Association for Computing Machinery) president Katie Zutter. The students who attended, all WACM members, applied for and were awarded scholarships funded by 3M and Liberty Mutual Insurance.
"Grace Hopper was an amazing experience," says first-time attendee and Computer Sciences graduate student Jinzi Zhang. She says she was "blown away by how much [the companies who attended] care about and invest in female computer scientists and engineers." GHC inspired Zhang to give back: "After graduating, I hope to return to GHC with my employer and give back to the community by sharing my experience with others and opening the door for other female technologists."
Junior CS major Emilie Rajka also attended GHC for the first time this year. "This conference really helped me feel more comfortable going into the next chapter of my life in tech," says Rajka. "It was an experience where I left feeling so proud to be a woman in computer science."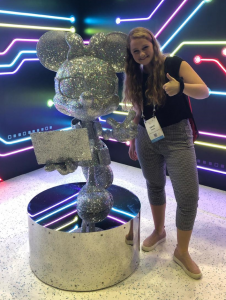 Rajka's favorite session at the conference was a play on the Great British Baking Show called The Great AWS Baking Show. The session was "filled with different interactive challenges that taught us how to navigate through the basics of Amazon EC2," Rajka explained. "It was informative while also fun and interactive, which I really appreciated."
Both Zhang and Rajka would like to attend GHC next year and recommend that other students who have the opportunity take advantage of it. "It is such a unique opportunity to meet companies that focus on making sure women have a voice in tech as well as to meet others who are in the field," says Rajka.
In addition to the conference events, Graduate Coordinator Angela Thorp, Zutter, and grad student Jing Liu staffed a booth at the career fair to recruit graduate students to the UW-Madison CS program. "We had a good amount of students stop by," says Zutter. "They had questions about everything from the university to research in the CS department to the city of Madison."
Zutter says that attending GHC "is an important opportunity for women in the Computer Sciences Department to gain exposure to fields in computing that they may not have otherwise explored and meet women from around the world whose intelligence and passion have driven major contributions to the field." She says that GHC helps WACM with their work at UW: "WACM brings this enthusiasm back to day-to-day life at UW, as we continue our mission to increase recruitment and retention of women in computer science, maintain a network to support each other in academic and professional growth, and improve the learning and working environments of women in computing."