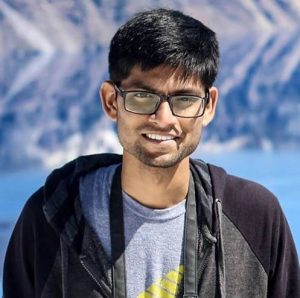 Rahul Chatterjee joins the UW-Madison Department of Computer Sciences from Cornell University, where he completed his PhD. He completed his MS here at UW-Madison and earned a Bachelor of Technology degree from the Indian Institute of Technology Kharagpur. He works in the field of computer security and focuses on user authentication systems. Chatterjee encourages his students to "think beyond just getting things working; think how things can/will break!"
How did you get into your field of research?
I came to know computer security during my undergraduate studies. I got a more hands-on experience of working on a computer security project while doing my masters here at UW-Madison. I found the idea of simultaneously "making and breaking things" very fascinating.
What is your area of focus?
My research focus is on user authentication systems. User authentication is the mechanism by which a user can prove to a computer who the user claims to be. The primary way we authenticate on the web is by using passwords. In some cases, such as to log in to our mobile phones or laptops, we might use biometrics. I work towards making these systems easy to use while still being secure.
What main issue do you address or problem do you seek to solve in your work?
Let's be honest, nobody really loves to type the passwords. Authentication is an unwanted (but necessary) barrier before doing something more productive. However, without a proper authentication step, there is no way to distinguish between the legitimate user from an attacker. I am trying to make authentication systems seamless for the legitimate user, but harder for an attacker. It is easier to design and build mechanisms for a computer to authenticate to another computer, but doing so between a human and a computer is hard. It's even harder if we consider the diversity of users, devices, and services that require authentication.
What attracted you to UW-Madison?  
My first exposure to the US was through Madison.  I have lots of memories in and around Madison. I did my Ph.D. in New York City, but I was in close touch with Madison. Some of my best friends are in Madison.  So, coming back to UW-Madison was a no brainer (though leaving NYC was hard).
What was your first visit to campus like?
I first arrived in Madison in 2013 for doing my masters. I was amazed by the "no dedicated campus" model of UW – the city and the university interleaves!
What's one thing you hope students who take a class with you will come away with?
Think beyond just getting things working; think how things can/will break!
How does your work relate to The Wisconsin Idea?
Anyone who is reading this post most likely has to deal with user authentication on a regular basis. I am trying to improve the user authentication problem, which expands beyond the classroom, Wisconsin, or the US — it's a problem that every internet user in the world has to face, and that is what makes it very interesting.
What's something interesting about your area of expertise you can share that will make us sound smarter at parties?
Don't use your pet's name as a password. And, no changing 'a' to  '@' or 'e' to '3' would not help. Use password managers to generate and store your passwords.
What are you looking forward to doing or experiencing in Madison? 
Snow! I am looking forward to it.
What course(s) are you teaching this year? Anything in particular you're looking forward to regarding teaching?
CS642: Introduction to computer security. This is the first course I am teaching in my life. I find interacting with students is very satisfying, and I am looking forward to that more.
Where do you see your area of CS in the future – in 5, 10, or 25 years?
Technology has revolutionized our world and will continue to do so in the foreseeable future. As we and our society become more dependent on technology, computer security will become more crucial to ensure that the technology works in the intended ways, even in the presence of an adversary. Computer security interacts with almost every field of computer science. As emerging technologies are built, computer security will have a key role to ensure the technology is safe and secure to deploy, and are protected from adversaries.
Hobbies/other interests:
Hiking, reading, paper crafting