Mouna Ayari Ben Hadj Kacem
Faculty Associate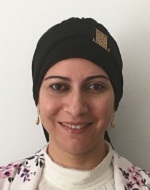 Mouna Ayari Ben Hadj Kacem joined the faculty in the Computer Sciences Department at the University of Wisconsin-Madison in Spring 2018. She is currently a Teaching Faculty member. Before that she was an associate researcher conducting research with PHARE-team, LIP6 laboratory, Sorbonne University – Campus Pierre and  Marie Curie, Paris, France, from July 2011 to September 2018. She also was an Assistant Professor of Computer Science at the University of Monastir – Tunisia from September 2009 to September 2014.
Mouna received her PhD in Computer Science jointly from Sorbonne University Campus Pierre and Marie Curie (UPMC), Paris 6, France and the National School of Computer Science ENSI, University of Manouba, Tunisia in 2009. She received her MS and her BS degrees in Computer Science from ENSI, Tunisia, in 2004 and 2003 respectively.
She is interested in teaching programming, data structures, and software engineering. Her research interests include mobility management and resource allocation in wireless and mobile networks, information centric networking, and automomic networking.