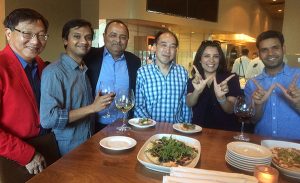 Computer Sciences alumni have two local alumni clubs: one in the Silicon Valley/ San Francisco Bay area, and one in Madison.
Club leaders organize a range of events that give alumni a chance to socialize, network, learn about new technical topics and more.
The Silicon Valley club, formed in 2015, organizes an annual picnic, small-group mentor dinners, tech talks, special outings (for example, a tour of the Tesla factory), and more.
The Madison club, formed in 2017, has organized a casual get-together at the Memorial Union Terrace and a tour of local tech giant Epic followed by happy hour at a pub.
In addition, Seattle Area Badger Entrepreneurs offers opportunities for network and information sharing among entrepreneurs.
Silicon Valley Club
Club leadership team:
Tejaswi Agarwal (MS '16)
Leonidas Galanis (PhD '04)
Hamid Reza Ghasemi (PhD '15)
George Kola (PhD '11)
Ao Ma (MS '12)
Karthik Ramasamy (PhD '01)
Somayeh Sardashti (PhD '15)
Qi Su (BS '02)
CK Tan (MS '92)
Leng Tan (BS '84)
Nikhil Teletia (MS '10)
Grace Tsang (BS '94)
Venkat Venkataramani (MS '01
Maria Yuin (MS '98)
Madison Club
Club leadership team:
Tejvir Mann (BS '21)
Matt Younkle (BS '97)