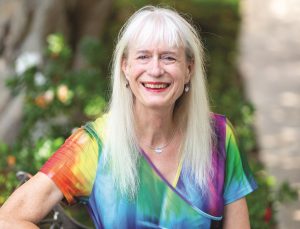 Mary Ann Horton (PhD '81) came to UW-Madison from southern California. She says, "It was worth the cold winters to study with elite faculty in my field." Read below about her career, her experiences at UW, and her work as a transgender activist!
What are you currently doing professionally? I spent 20 years at Bell Labs/AT&T/Lucent/Avaya, first in software development and then in DevOps, then 16 years in IT at Chase and San Diego Gas & Electric. Now I'm semi-retired. I consult part-time for SDG&E, where I write software tools to ensure we're in compliance with cyber-security regulations to keep the bad guys out of the electric grid. I'm also an author. My memoir Trailblazer: Lighting the Path for Transgender Equality in Corporate America was released this year. I plan to write another memoir about my technology experiences.
What do you like about it? I love not having to rush into work in the morning, having time to write, to tinker with technology. It's also great to be useful in my retirement.
What motivated you to study computer science? In my 9th grade year in 1970, our high school got a new model 33 teletype, which dialed up to a time-sharing service allowing us to code in BASIC. I was hooked! Several of us would line up after school each day, waiting for our 10 minutes of computer time.
Why did you decide to attend UW-Madison? After a great undergrad experience at University of Southern California, I had the opportunity to study and teach at UW, a top-15 school in computer science. It was worth the cold winters to study with elite faculty in my field.
What was one of the most valuable experiences you had in CS at UW-Madison and why? UW turned me on to UNIX. We were not just allowed, but encouraged, to enhance the system. My early work with UNIX launched me into a fun and rewarding career.
What was your favorite thing about UW-Madison? I have fond memories of being a TA. Having the opportunity to teach students from other majors how to program was rewarding. I chuckle that we thought business majors needed to learn coding in PL/1.
What are one or two things you did at UW outside of your classes? How did these benefit your education, your current career, and/or your life? I enhanced UNIX's "ed" editor, creating a new tool "hed" that became a department favorite. This led to my taking ownership of, and enhancing, Bill Joy's "vi" editor, which gave me instant credibility at new jobs later in my career. I also struggled with my confusing transgender needs and was deeply in the closet. When I finally came out later in life, I became an activist. Persuading Lucent Technologies to become the first Fortune 500 company to add trans-inclusive language to their nondiscrimination policy set me on a course to change the world, one company at a time.
Do you have any advice for current CS students? If you love what you do, it will show in your work.
What do you like to do for fun? I love to read, and I enjoy musical theater. Getting outdoors to hike, bike, or just enjoy the beauty of nature sets me soaring.