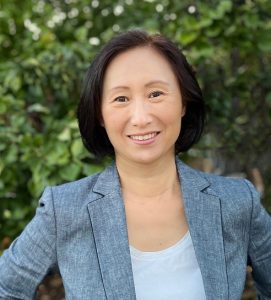 Maria Yuin came to UW-Madison to study computer science – and to play bassoon. One thing that drew her to UW-Madison was that she could play bassoon in music ensembles for non-majors in the School of Music while pursuing her CS degree. Read more about Maria and what it's like to see your work in action on a daily basis!
What are you currently doing professionally? I'm currently the Vice President of Engineering at Salesforce. I lead an organization of 200+ engineers spanning across North America and Argentina. The product that I work on is called MuleSoft. It's a software product that helps large enterprise customers automate their systems and deliver modern customer experiences.
What do you like about it? Many of the everyday brands that we come across in our daily life use MuleSoft. As a consumer, I see the result of my work every day when I book airline tickets or use my local banking services. I love seeing the impact of the product I build in my everyday life.
As I work for an international company, I have the opportunity to visit different countries and work closely with people from many different cultures. I really enjoy that aspect of my job as well.
What motivated you to study computer science? I took a CS class in my high school, and I had a wonderful teacher. We built several fun programming projects and that class really got me into thinking about pursuing CS as a career. Subsequently I got a BS degree in Computer Science at University of Maryland, College Park. After I graduated with a BS degree, I felt that there was so much more that I needed to learn, that's when I applied to graduate school at UW-Madison.
Why did you decide to attend UW-Madison? UW-Madison had (and still has) a very reputable CS program. When I learned that I was accepted into the graduate program, it really was an easy decision to attend. I also love the fact it's a big school that offers so many other learning opportunities. Besides being a Computer Science major, I also played the bassoon. So I was very happy to learn that UW-Madison's music school has ensembles that a non-major musician can play in. The ability for me to continue to play music was also a key reason why I chose to attend UW-Madison.
What was one of the most valuable experiences you had in CS at UW-Madison (a specific class, a project you worked on, etc.) and why? During my time at UW, I took a special interest in Database topics. Back in the late 90's when I graduated, UW graduates with Database background were in demand. The education I received was very relevant, and I was ready to start my career as a computer scientist. 
What was your favorite thing about UW-Madison? The Union, walking on the frozen Lake Mendota, State Street, Babcock ice cream. 
What are one or two things you did at UW outside of your classes (clubs, study abroad, employment, conferences, internships, etc)? How did these benefit your education, your current career, and/or your life?  I was a research assistant to Prof. Miron Livny. I found my experience working on the research project with his team most prepared me for real-world work experience. I learned how to gather functional requirements, work with many people on a large scale project, and how to solve integration problems that come along the way.
Do you have any advice for current CS students? Get involved in the school community. Join a club, volunteer, go watch student performances, go to a game. In addition to focusing on your academics, don't forget there are so many ways to expand your horizon and enrich your life experiences. Go explore!
What do you like to do for fun? My husband and I have two teenage sons. We ski a lot in the winter. It's our favorite activity to do as a family.
Just this year, after many years of not playing bassoon, I have started to play in a local community orchestra again. I'm pretty excited about getting back into playing again.