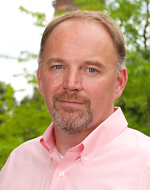 Patrick McDaniel comes to UW-Madison after 18 years as a professor at Pennsylvania State University. He earned his PhD at University of Michigan and worked in startups after that. McDaniel first visited Madison 20 years ago and "fell in love with it." The Wisconsin Idea is central to his work: "meeting people where they live in the systems they have so that we can make them secure and private."
Hometown: Athens, Ohio
Educational/professional background: Bell Labs (AT&T Research), professor at Penn State for 18 years, PhD from University of Michigan 
How did you get into your field of research? I did startups in the early/mid 1990s in California and saw that security was going to be a big deal once the Internet really blew up.  At NASA (Fellowship), Michigan, and AT&T, I saw this really expand, and I have made it my intellectual pursuit since that time.
Could you please describe your area of focus? Cyber-security and systems
What main issue do you address or problem do you seek to solve in your work? How to understand security and privacy issues and how to build practical systems that users can use to achieve both.
What's one thing you hope students who take a class with you will come away with? How to think like an adversary – if you can do this (and only if you can do this), you can build secure systems.
What attracted you to UW-Madison? The history and quality of the department and Madison itself.
What was your first visit to campus like? 20 years ago, early spring.  Stayed at a B&B on the lake and fell in love with the town and University.
What are you looking forward to doing or experiencing in Madison?  Just enjoying the intellectual engagement of the University and the myriad of activities the area has to offer.
Do you feel your work relates in any way to the Wisconsin Idea? If so, please describe how. The Wisconsin Idea is exactly what I am getting at–meeting people where they live in the systems they have so that we can make them secure and private.
Please tell us about something you're working on in layperson's terms, so that non-computer scientists at UW-Madison and the general public can understand what you're passionate about.
I work on making systems–computer-enabled services and process–secure and private.  Whether they be mobile phones, online services, artificial intelligence, or even elections, I strive to see where public policy, software and hardware designs, or best practices can help users achieve their goals while being safe and private.
Hobbies/other interests: I am a pilot, avid CrossFit workout enthusiast, and like to race my Porsche on professional tracks.