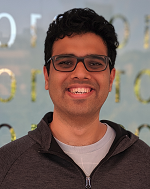 Swamit Tannu, new assistant professor specializing in computer architecture and quantum computing, joins UW-Madison Computer Sciences from Georgia Tech, where he completed his PhD. His research focuses on "architecture and compilation techniques to mitigate hardware error to enable quantum computers that can solve practical problems," such as designing better drugs, more efficient batteries, and inexpensive fertilizers. Tannu was attracted to UW-Madison CS in part because the first digital computer in Wisconsin was built here – and in 2021 the first quantum computer in Wisconsin is being built at UW-Madison. 
Hometown: Mumbai, India
Educational/professional background: I did my PhD in Electrical and Computer Engineering at Georgia Tech.
How did you get into your field of research? During my first year at Georgia Tech, I attended a talk on Quantum Computing- a new computing paradigm that can help us solve some of the toughest computational problems. Luckily, that summer, I interned at Microsoft Research with a Quantum Architecture Team, which cemented my interest in Quantum Computing Systems.  
Could you please describe your area of focus? I focus on hardware and software architectures for quantum computers. I am broadly interested in Computer Architecture, Quantum Computing, and Emerging Technologies.
What main issue do you address or problem do you seek to solve in your work? Quantum computers promise to solve some of the hardest computational problems. Unfortunately, quantum hardware is extremely sensitive to noise, and it is hard to run programs and infer correct output on a quantum computer due to hardware errors. My research focuses on architecture and compilation techniques to mitigate hardware error to enable quantum computers that can solve practical problems.
What's one thing you hope students who take a class with you will come away with? How classic ideas in computing and computer architecture can be used to tackle problems in emerging technologies like quantum computing. I want to equip my students with a strong foundation and encourage them to be creative. 
What attracted you to UW-Madison? The culture of doing great science and effectively communicating it, is something that attracted me to UW-Madison. One of the foundational ideas in computing systems is Amdahl's Law, which tells us how quickly a computer would solve a particular problem. Gene Amdahl, who pioneered this way of thinking, was a graduate student in Physics at UW-Madison in the 1950s. For his PhD thesis, he and Charles Davidson built the first digital computer in the state of Wisconsin. It's poetic that in the year 2021, researchers on campus are building the first quantum computer in the state of Wisconsin.  
What was your first visit to campus like? My first visit was the week before pandemic restrictions were enforced. I loved the ice cream and bustling State Street. I enjoyed my stay. 
What are you looking forward to doing or experiencing in Madison? I am waiting for summer, and I am looking forward to spending time on the Terrace and visiting nearby parks. 
Do you feel your work relates in any way to the Wisconsin Idea? If so, please describe how. Quantum computers can play a big role in solving some of the hard practical problems. It's envisioned that someday we can use a quantum computer to design better drugs, efficient batteries, and inexpensive fertilizers, which I think will affect all of us. I hope quantum computing would continue to add to the amazing transformation that conventional computers have enabled.   
Hobbies/other interests: I enjoy hanging out in coffee shops, and I like cooking ambitious meals.