Credit to Yu Wen Mak and Charlie Chermak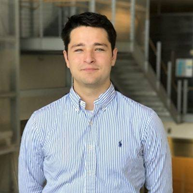 Many people dream of running their own company and being their own boss. For Jack Ryan, a UW-Madison alumnus from Eden Prairie, MN, that dream has already come true. Ryan is the Founder and CEO of Last Lock, a startup that aims to disrupt the access control market by developing and commercializing the world's first backwards-compatible, self-powering smart lock cylinder.
While at UW-Madison, Ryan demonstrated his entrepreneurial spirit early on. Heavily involved with Wisconsin Racing, an engineering student organization that builds Formula-style race cars, Ryan saw that the future of automotive was electric and proceeded to co-found the Formula Electric Team with five other members. A few years later, Ryan was part of the student team that helped found and operate the UW Makerspace. As Electrical Manager, Ryan oversaw the layout of the space and taught seminars ranging from PCB design to lock picking. As a junior, Ryan joined Dock Technologies, a Madison-based medical technology startup, where he helped redesign the Insight Timeband, a low-power IoT device. Ryan credits these three experiences as critical in founding Last Lock.
"The journey to starting my own company began with a desire to further network with Madison-based startups and entrepreneurs. I joined gener8tor's gALPHA+CS program because it seemed like the perfect opportunity to share some of the ideas I had once a week," said Ryan. For the Madison program,  gALPHA partnered with the UW-Madison Computer Sciences Department and  the Wisconsin Alumni Research Foundation (WARF) to match industry experts with UW-Madison students to help them start companies. When asked about where the idea behind Last Lock came from, Ryan answered, "Funny enough, the idea came to me not ten minutes after the first gALPHA meeting. When walking home, I saw a tangled string of locks on a gate on East Washington and snapped this picture."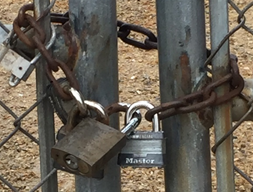 "It's a practical system called a daisy chain lock," Ryan continued. "It's commonly found on construction sites and utility plants, and it allows a select number of people access without having to copy and share keys. Additionally, it's easy to add another user to the system by simply adding another lock to the chain. While very convenient, it occurred to me that this system has the same weakness as any other chain: it will always fail at the weakest link, or, in this case, the weakest lock. The unique solution I devised to solve this problem—not just in padlocks but in all locks—is the driving force behind Last Lock."
Last Lock recently received $100,000 in seed funding from gener8tor, a startup accelerator that invests in startup ideas they believe have potential. Through gener8tor's mentorship and investment, Ryan has begun to build a team, develop sophisticated prototypes, and pursue patents. "We are very fortunate," said Ryan. "Just a few months after being founded, we have a great team of Badgers growing this company along with pilot partners testing our product. After sufficient testing, we are excited to bring the Last Lock to our strategic industry partners throughout the Midwest."
Despite receiving early funding, it hasn't all been smooth sailing for Ryan. "As a technical founder, I faced a steep learning curve to understand how to properly launch and run a startup. I was very fortunate to have gener8tor's support and our board of advisors' guidance at many crucial moments. I am very excited about the future."
When asked about the recent COVID-19 pandemic, Ryan said, "Although we've had to postpone our larger pilots with UW System campuses, we are very lucky to not have been seriously financially injured by the effects of COVID-19. Our low burn rate has enabled us to stretch our runway for the foreseeable future, while our traction with our patents and prototype testing has only accelerated. As a result of the pandemic, we are also looking towards the future and creating solutions that combat viral transmission spread through lock systems and door handles."
Ryan also has plans involving UW-Madison students: "There's a desperate need for engineers and computer scientists in IoT cybersecurity. We entrust so much sensitive data to our smart devices that are constantly being hacked." Last Lock has partnered with the UW student organization Researching IoT Security, or RIOTS, to expose students to software and hardware vulnerabilities through an ongoing white hat hackathon with cash prizes. "I hope this organization will incentivize students to learn more about cybersecurity and provide experience that will make them more valuable hires in industry."
Most recently, Last Lock entered the Wisconsin Governor's 2020 Business Plan Contest among a crowded field of over 300 Wisconsin-based startups. After advancing through the first three phases of the competition—requiring an idea abstract, a 500-word executive summary, and a 20-page business plan, respectively—Last Lock placed in the top three for its contestant category of Business Services and as a result became one of the "Diligent Dozen" companies remaining for the fourth and final phase of the competition. Each of the Diligent Dozen participants were asked to create and record a seven minute video pitch that can be viewed on the Business Plan Contest's website, and viewers can vote for their favorite to receive the "People's Choice Award." Judges will also review the pitches and results will be announced at the virtual 2020 Wisconsin Entrepreneurs' Conference on June 4. Individuals are welcome and encouraged to virtually attend the conference and vote Last Lock for the People's Choice Award.
Best of luck to Jack Ryan and Last Lock on all their future endeavors!