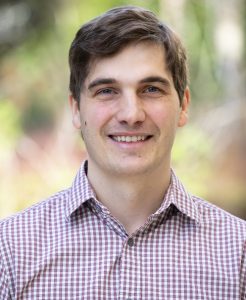 UW-Madison Computer Sciences Assistant Professor Loris D'Antoni has been selected as a recipient of the 2020 Microsoft Research Faculty Fellowship in recognition of his accomplishments, impact, and leadership in the field. He is one of only five recipients to receive this prestigious award, which receives hundreds of nominations from all over the country every year.
As a Microsoft Research Faculty Fellow, D'Antoni will receive $100,000 awarded annually for two academic years, as well as travel reimbursements to visit any Microsoft Research lab and events.
The main goal of D'Antoni's research is building "tools that can help programmers write software that meets their intent – i.e., that does the thing they want it to do." Toward that end, he is designing techniques "that allow programmers to specify what their code should do using high level logical specifications and algorithms that can transform these specifications into executable programs." His current focus is on building practical and predictable program synthesis techniques that can be applied to computer networks, program repair, and machine learning.
Of his field, D'Antoni says, "Many problems appearing in program verification and synthesis have astronomical theoretical complexities and are sometimes even undecidable." He says that these challenges are often seen as insurmountable, "but as many formal methods and programming languages researchers are showing, they are actually an opportunity to design new techniques that are practical and avoid the so-called worst-case behaviors." If researchers can understand what makes a problem hard, they can create tools that can be used to solve practical problems.
"This fellowship will help me advance my research agenda in many ways." says D'Antoni, "In particular, I'm very excited about the challenges posed by the ubiquitous use of machine learning." He says that in his work he asks whether programming language techniques can be used to verify machine learning models, train robust models, and even synthesize logical interpretable explanations of what these models do. "This award will help advance my research in such problems," says D'Antoni.
D'Antoni – who was the first-generation college student from Italy, going on to complete his PhD at the University of Pennsylvania – has won many awards, including an NSF Career Award, Google Research Award, Morris and Dorothy Rubinoff Dissertation Award, and his papers were selected for special journal issues (TOPLAS, FMSD) and nominated for Best Paper Awards (TACAS). He credits his mentor Mariangiola Dezani (Università di Torino) as "the first one to see my potential and make me fall in love with research during my undergraduate studies." His PhD advisor Rajeev Alur was an important mentor during his graduate studies. And his colleagues at UW-Madison and his collaborators "have encouraged me, supported me, and created the perfect working environment that made my ride as an assistant professor extremely smooth, and most importantly my students were the amazing collaborators that made all the work happen."