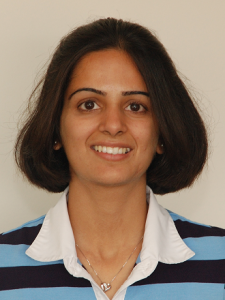 Professor Shuchi Chawla of the Computer Sciences Department has won the 2020 Chancellor's Teaching Innovation Award, one of this year's Distinguished Teaching Awards. "This award recognizes the hard work numerous peer mentors and TAs have put in towards mentoring and helping students in CS 577 [Introduction to Algorithms] over the last few years, making the course more engaging and welcoming for all students," says Chawla.
The Chancellor's Teaching Innovation Award recognizes professors who have shown innovative approaches to learning. "As our CS classes continue to grow in size, and student needs cover a broader than ever spectrum, there is much room for innovation in how we connect with students and provide a personalized experience that allows everyone to succeed," says Chawla.
Chawla has been a UW-Madison CS Department faculty member since 2006. She earned her PhD from Carnegie Mellon University and has been awarded an Alfred P. Sloan Fellowship, an NSF Career Award, and the Carolyn Rosner Award for Excellence in Teaching.
Chancellor Rebecca Blank will present the 2020 Distinguished Teaching Awards at a 5 p.m. ceremony on April 7th at the Pyle Center. The ceremony, sponsored by the Office of the Secretary of the Faculty, is free and open to the public.
Congratulations to Professor Chawla!