By John Mak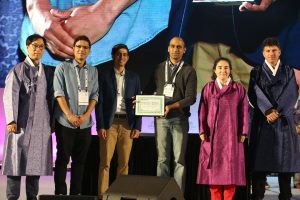 On the 30th of October, three researchers in the UW-Madison Department of Computer Sciences – Anant Gupta, Atul Ingle, and Mohit Gupta – won the Marr Prize – honorable mention at the International Conference on Computer Vision (ICCV) for their work on single-photon 3D imaging.
The Marr Prize, given biennially to the best papers at the ICCV, is one of the most prestigious honors in computer vision research. The UW-Madison paper was one of only four to receive an award this year. The ICCV had about 4,500 paper submissions, with roughly 1000 papers accepted and nearly 8,000 attendees.
Single-photon sensors are an exciting new sensor technology that have the unique ability to capture individual photons of light with extremely high timing resolution. This extreme sensitivity and time resolution makes single-photon sensors ideal candidates for low-power long-range 3D cameras. Gupta, Ingle, and Gupta have been developing this technology for over two years, and this work has resulted in three oral presentations at flagship computer vision conferences (CVPR and ICCV) this year, as well as three patent applications filed by the Wisconsin Alumni Research Foundation (WARF).