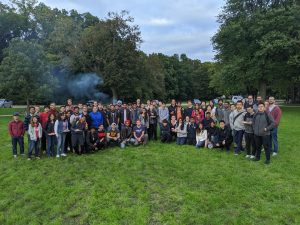 This fall, the Department of Computer Sciences continues its growth with a record-breaking number of incoming graduate students. With this large student body, it becomes increasingly important to build an active community that involves graduate students, undergraduates, faculty, and staff.
In order to address this ever-growing need, the student chapter of the Association for Computing Machinery (SACM) started off the new academic year with the CS Fall Picnic. Students came together at Henry Vilas Park to get to know each other, enjoy delicious food, play sports, and start the new semester on a positive note.
 "The Annual Fall Picnic is a great example of SACM building a community within the department," says Mark Mansi, Vice President of SACM. "Often, we only see each other in the context of a work environment, and it's good to just hang out with people, meet their families, play croquet, and the like. It's also an incredible effort to put on, so kudos to the organizers!"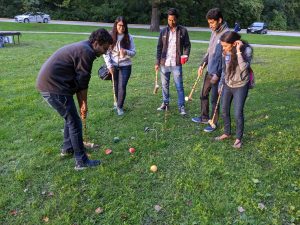 Matt Dutson, Chair of the Events Committee for SACM added, "We budgeted $600 for food for this event. In addition, many graduate student volunteers took time out of their busy schedules to help with planning and execution. They did everything from storing food in their apartment refrigerators to transporting the grill to the park."
When asked about SACM's goals for this year, Amanpreet Singh, President of SACM, replied with the following emphases for this year:
Supporting and guiding students to help them achieve their career goals
Fostering a sense of community for everyone in Computer Sciences at UW-Madison
Along with that, SACM will work especially hard this year to expand its career-building programs, such as mentorship pairings, student-led panels, and creating opportunities to interact with industry professionals.
Keep up with SACM's developments in the CS community by following them on Instagram, Twitter, and Facebook.