By Maeve Ryan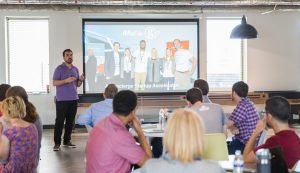 Adithya 'Adi' Murali came to UW-Madison as a computer science major. While he knew he had an entrepreneurial spirit, he didn't know how to channel it. Luckily, a new program at UW-Madison, gALPHA+CS, allowed him to do just that: "I did want to try entrepreneurship and get my feet wet; I just didn't know how to go about it – that's when I looked into gALPHA."
Gener8tor, a nationally ranked business accelerator, founded the gALPHA program at UW-Madison in 2017. The program partnered with UW-CS and the Wisconsin Alumni Research Foundation (WARF) to give students like Adi an opportunity to explore entrepreneurial interests. The four-week long program "allows students to grow an idea," says Murali.
Murali graduated from UW-Madison with a degree in Computer Science in the spring of 2019. He is a proud alumnus of the gALPHA+CS program, where he and a team developed Product Insights, a company that leverages customer interaction data to hasten product development.
Coming into gALPHA, Murali lacked a concrete idea to pursue. This led him to take part in reverse pitching, where companies explain their current problems to gAlpha participants so they can find solutions rather than participants proposing new ideas from the outset.
The program's practical approach to helping students allowed Murali to develop business ideas. "[gALPHA] treats you like you are an entrepreneur and you're trying to put something out on the market. They give you resources and information to teach you about what steps you need to take in order to be successful," says Murali.
Currently, Murali and his team are going through the non-equity based accelerator gBETA, which is also run by Gener8or. The seven-week program "essentially shapes your company," says Murali. gBETA offers a more intensive schedule for early-stage companies looking to expand and grow their networks.
According to Murali, gALPHA+CS and UW-Madison overall encouraged his entrepreneurial drive. "I would not be able to do the things that I'm doing right now if I didn't come here," says Murali. "UW is great because if you're really motivated in terms of what you want, there are an ample number of opportunities to pursue. It just depends on whether you want to do it or not."
Driven students like Murali remind us to follow our passions and build communities that encourage the same.