By Maeve Ryan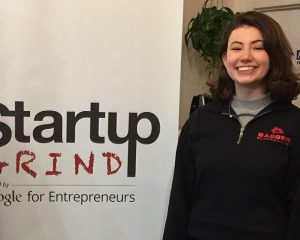 Roz Stengle is a junior at UW-Madison majoring in computer science and economics. She was born and raised in Princeton, New Jersey and decided to come to UW due in part to the university's size: "My high school is really tiny, so it's nice to be somewhere that operates like a whole city in and of itself".
Stengle promptly established herself on campus, founding Badger Blockchain. The student organization aims to educate and network UW students and faculty regarding the world of cryptocurrency. "We wanted to create a community within the school where people who wanted to learn more about the technology could," says Stengle. Sixty interested students attended Badger Blockchain's kickoff meeting in the summer of 2017, and this momentum continues today through its 250+ members.
Stengle recommends that those interested in blockchain look into the UW-Madison course Finance 345: Cryptocurrencies. Taught by Badger Blockchain's advisor Brad Chandler with Stengle as a teaching assistant, the course was offered for the first time in the fall of 2018.
Finance 345 explores cryptocurrency's unique intersection of economics and technology, something with which Stengle is very familiar. "Blockchain technology is so fun to study because it sits at this intersection of cryptography, game theory, law and sociology, and being a part of the industry has exposed me to so many new things that I am not confident that I would have otherwise encountered." says Stengle. "Because Blockchain is so new, it really feels like an industry in which I can make a mark, while being pushed to learn about an immense array of fields."
Additionally, Stengle suggests that "reading the original Bitcoin whitepaper and talking to other enthusiasts at the Madison Blockchain Meetup" are good ways to learn more about the technology.
Outside of Badger Blockchain, Stengle keeps herself busy in the cryptocurrency space. This January, she used her high school speech and debate skills at a Startup Grind event, where she ran a workshop about building blockchain communities. The event had the highest turnout since the chapter was founded five years ago.
Stengle's achievements were recognized this fall when she was added to Wisconsin Inno's '25 Under 25' 2018 list. The award noted her enthusiasm and experience in the blockchain space.
Currently Stengle is gaining professional experience. Last fall she worked as a researcher for a Thai crypto powerhouse called OmiseGo, which is building a decentralized exchange and hopes to improve global payment processing. At OmiseGo, she looked at a layer 2 scaling solution for Ethereum called Plasma. She spent last summer working "as a Software Engineering Intern at Ripple, a FinTech startup based in San Francisco that's building payment processing technology for banks and remittance platforms to streamline enterprise settlement." And this spring she's working as Associate Product Manager and Software Engineer at a small FinTech startup called UMA in New York. "The company is building a set of tools on top of the Ethereum blockchain to democratize access to markets for people around the world by synthetically tokenizing assets," says Stengle.
Stengle will return to UW-Madison in the fall of 2019. After graduation, she plans to continue working in the blockchain space. She predicts "that'll I'll be working at a startup given the nature of the industry, and that'll probably be in New York or San Francisco or Berlin."
Stengle's entrepreneurial, tech-savvy spirit lives on at UW-Madison through Badger Blockchain and beyond.