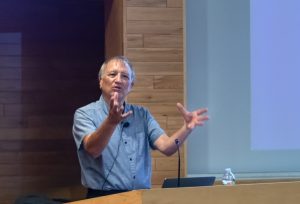 When Pat Hanrahan presented his talk "Shading Languages and the Emergence of Programmable Graphic Systems" on Wednesday, October 12, 2022, there was no need for his ground-breaking Renderman Interface to digitally create a crowd. The Computer Sciences lecture hall was at capacity, and a second room was set up for people to watch via Zoom. 
As part of the Computer Sciences Department's Distinguished Lecture series, Hanrahan discussed the history of shading languages and GPUs (graphic processing units). He also shared insights from his career, such as being awarded the Turing Award, which many refer to as the "Nobel Prize of Computing." 
The importance of Hanrahan's work cannot be overstated. "Because 3-D computer graphic imagery is now so pervasive, we often forget what the field was like just a short time ago when a video game like Pong, which consisted of a white dot bouncing between two vertical white lines, was the leading-edge technology," said Jeff Dean, Google Senior Fellow and SVP, Google AI. "The technology keeps moving forward, yet what Hanrahan and [colleague Edwin] Catmull developed decades ago remains standard practice in the field today—that's quite impressive. It's important to recognize scientific contributions in CGI technology and educate the public about a discipline that will impact many areas in the coming years—virtual and augmented reality, data visualization, education, medical imaging, and more."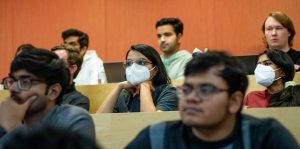 Hanrahan earned a Bachelor's Degree in Engineering Physics in 1977 and a PhD in Biophysics in 1985, both from the University of Wisconsin–Madison.
His post-graduate-school career began at Pixar in 1986, where, with Pixar colleague Edwin Catmull, he created the well-known Renderman Interface. Pixar used this interface to create films such as Toy Story and Finding Nemo. RenderMan's Shading Language, developed by Hanrahan, enabled dramatic, photorealistic lighting in computer animation for the first time, and brought him three technical achievement Academy Awards. 
Hanrahan is currently Professor of Computer Science and Electrical Engineering at Stanford University. Along with Catmull, he won the 2019 Turing Award for his "revolutionary impact" on computer-generated animation. 
According to the Association for Computing Machinery (ACM), who awards the Turing Award, Hanrahan and Catmull made "fundamental contributions to 3-D computer graphics, and the revolutionary impact of these techniques on computer-generated imagery (CGI) in filmmaking and other applications . . . Their work has had a revolutionary impact on filmmaking, leading to a new genre of entirely computer-animated feature films."
The Department of Computer Sciences at UW-Madison was honored to host Pat Hanrahan at the first in-person distinguished lecture since the COVID-19 lockdown. The department is a pioneer in computer science research – well established, highly ranked, and regularly singled out for its collaborative spirit. Award-winning CS faculty work closely with students, teaching and conducting bold research to achieve excellence in computer science. 
 The Computer Sciences Department is part of the School of Computer, Data & Information Sciences (CDIS), which hosts a variety of events. Formed in 2019, CDIS brings together the departments of Computer Sciences, Statistics, and the Information School to work at the intersection of technology and humanity to solve society's greatest challenges.