The Fall 2020 Career Fair is going virtual!
You'll have the same great opportunities to connect with employers over two days this year. (We combined startups, originally scheduled for Wednesday, with the Monday line-up):
Monday and Tuesday, September 21-22 – with different exciting companies and startups each day.
Employers
The Madison Area Computer Sciences Career Fair is an excellent opportunity for companies with a Madison area technical hiring presence, government agencies, or Computer Sciences Industrial Affiliates members to promote their employment opportunities to talented computer sciences students at all degree levels. This year the Career Fair will be held online using the Handshake platform. Learn more.
Employer registration opens July 20th
For more information, or if your company would like to participate, contact:
Gigi Mitchell at gigi.mitchell@wisc.edu or 608-262-1204.
Students
The career fair will include companies ranging from small start-ups to large, well-established enterprises. Technology represented will include companies whose primary products are software to those using technology to support infrastructure. Participating companies include local companies, national industry leaders, and the government sector. Employers are recruiting for full-time, part-time, and internship positions and are interested in students at all degree levels.
Students will connect with companies using Handshake.  To prepare in advance please make sure you have activated your account and your profile is up to date. Sign up in handshake with linkfor individual and group sessions
We look forward to returning to our in-person career fair once we are able.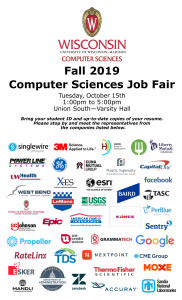 NOW VIRTUAL!
2020 CS CAREER FAIR
September 21-22, 2020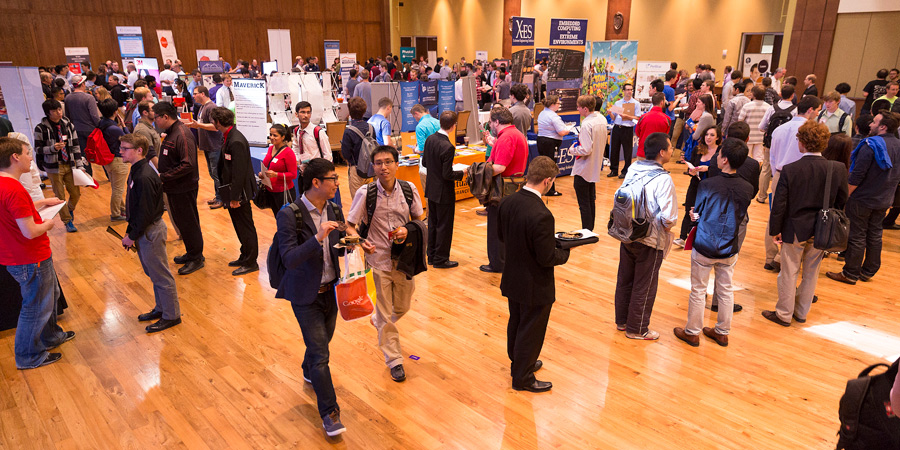 2019 Participating Companies
Grammatech
Hardin Design and Development
Kohls
Liberty Mutual
Mandli Communications Inc.
MoxeHealth
Nextpoint
Parts Unlimited (LeMans)
PerBlue
Plastic Ingenuity
Power Line Systems
Propeller Health
R.W. Baird
Ratelinx
Sandia National Lab
SC Johnson
Sentry Insurance
Singlewire
State of Wisconsin – Dept. of Administration
TASC
Thermo Fisher Scientific
3M
USGS
UW Credit Union
UW-Health
West Bend Insurance of Wisconsin
X-ES
Zendesk
2018 Participating Companies
American Family Insurance
Avid Ratings
Bloomberg
Capital One
Carex Consulting Group
CIA
Comscore
Cray Inc.
CUNA Mutual
DoIT
EatStreet
Epic
Esker
Esri
FaceBook
Fetch Rewards
GE
Google
GrammaTech
Hardin Design and Development
Healthgrades
kiio
Lands End
Liberty Mutual
Mandli Communications
Moxehealth
Ocient
Parts Unlimited (LeMans Corporation)
PerBlue
Plastic Ingenuity
Power Line Systemd
QBE Insurance Group
R.W. Baird
SC Johnson & Son, Inc.
Sentry Insurance
Shopbop/Amazon
Singlewire
Snowflake Computing
State of Wisconsin, Dept. of Administration
TASC
Thermofisher
3M
uline
USGS
X-ES (Extreme Engineering Solutions)
Zendesk