Ben Van Roo
Vice President of Analytics and Data Science, Chegg, Inc.
San Francisco, CA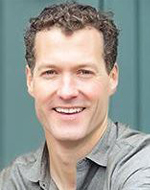 Ben Van Roo was born in Madison and attended UW-Madison for his B.S. degrees in Computer Sciences and Environmental Engineering. He went on to get his MBA and his Ph.D., focused on Operations Research, from the UW-Madison School of Business.
In graduate school, Ben went to work for the RAND Corporation, and continued his tenure there for three years after being awarded his Ph.D. At RAND, Ben focused on civilian and military challenges and provided analysis and consultation to senior government and military leaders on domestic and international affairs. In his role, Ben traveled to several countries in the Middle East, including Afghanistan and Iraq, to address complex scenarios with the complementary goals of improving the economic and basic living conditions for local populations and saving the lives of U.S. service members stationed in turbulent regions.
Currently, Ben serves as the Vice President of Analytics and Data Science at Chegg, Inc., an education technology company in Santa Clara, California. He oversees a diverse set of responsibilities in business analytics including: product pricing, customer engagement, A/B testing, fraud and risk, customer service, business forecasting and long-term planning. On the data-science front, he is responsible for Chegg's development of infrastructure related to machine learning, natural language processing and personalization.
Ben also leads the development of a new set of analytics-based products and services focused on navigating all aspects of the student life cycle. His team is working to understand patterns and relationships that may influence the decisions of (and offer new insights to) students, colleges and employers.
In addition to his professional work, Ben currently sits on three boards associated with the University of Wisconsin: the Wisconsin Business School Alumni Board, the Computer Sciences Board of Visitors, and the Badger Entrepreneurship Forum Board of Visitors.
Why I love Wisconsin CS:
World-class faculty and students both in CS and across UW-Madison, an incredible alumni network, virtually unlimited opportunities for any student willing to put in the work, and–most importantly–a great place to spend four (in my case, ten) years!