Ramu Sunkara
CEO & Co-Founder, Alan AI, Inc.
Sunnyvale, CA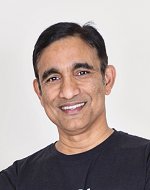 Ramu Sunkara is the CEO and Co-Founder of Alan AI, Inc.
Alan® is the technology leader for voice assistant deployment by enabling organizations to swiftly deploy a voice experience in their apps and websites to provide the ideal conversational user experience. Alan® ensures that the organization and their users are afforded the highest level of privacy, security, and data ownership within their own branded environments.
The Alan Platform leverages existing UI and visual cues to establish a contextual language understanding layer to provide natural, human-like conversations between organizations and their users. Alan has unlocked the ability for voice AI to provide unlimited intents and actions for any app and website.
Before Alan, Ramu co-founded Qik, the live mobile video service, in his garage in 2006 and grew Qik to become the #2 paid application in Apple's App Store and #1 video application for Android in the USA, Japan, and South Korea. Qik was acquired by Skype for $150M in 2011 where Ramu led mobile video products and innovations for Skype.
Why I love Wisconsin CS:
The Wisconsin CS department is our brand for life. We have to sustain it and improve it as the world of computing evolves, and I am excited to do my part as a member of the CS BOV.