Steve Scott
Senior Vice President & Chief Technology Officer, Cray Inc.; Former Chair of CS Board of Visitors
Seattle, WA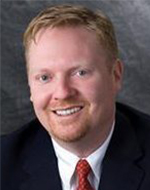 Steve Scott is Senior Vice President and Chief Technology Officer of Cray Inc., responsible for guiding the long-term technical direction of Cray's supercomputing, storage and analytics products. A noted expert in high-performance computer architecture and interconnection networks, Steve holds 35 U.S. patents in the areas of interconnects, coherence mechanisms, synchronization, and parallel architectures. He received the 2005 ACM Maurice Wilkes Award and the 2005 IEEE Seymour Cray Computer Engineering Award, and is a Fellow of the ACM and the IEEE. Steve earned his BS in electrical and computer engineering, and his Masters and PhD in computer architecture, all from the University of Wisconsin-Madison.
Scott chairs the UW-Madison Computer Sciences Board of Visitors.
Why I love Wisconsin CS:
The Wisconsin CS department somehow manages to combine a world-class faculty and educational experience with a downright friendly environment. Still feels like family more than 20 years out!