Phil Blake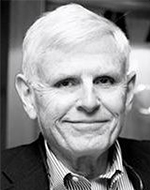 Phil Blake is the retired publisher of the Wisconsin State Journal and CEO of Madison Newspapers, Inc.  He spent 25 years as a newspaper executive after working as a newspaper reporter in Chicago and serving as a naval officer.  He has a B.A. from Brown University and a master's in management from the Kellogg School at Northwestern University.
Blake has served in a number of civic roles in the community, including serving on boards of directors including the Greater Madison Chamber of Commerce (Chair), Edgewood College (Chair) and Meriter Hospital.  He is also a member of the boards of visitors of the UW Waisman Center and Waisman Biomanufacturing.
He is an active investor in startup businesses in Madison, and he operates and co-owns a sustainable timber business.