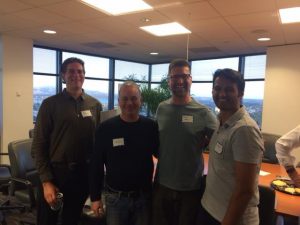 The Seattle Area Badger Entrepreneurs alumni group was organized in the spring of 2019. Their plan is to have three meetings with speakers and socializing every year, with smaller meet-ups possible. The group is inspired by Bay Area Badgers Forum to network Badgers in entrepreneurialism.  Lawyers, accountants, PR, and other service providers as well as start up and in company "intrapreneurs".  Find a partner, a company, employees, financing, an idea.   We are loosely affiliated with WARF (Smukowski is a trustee) to assist with subject matter experts and possible catalysts to evaluate UW Madison technologies and provide leadership in mutually agreeable technology licensing/new companies.  Successful unicorn companies are welcome to write big checks to UW Madison!
The group met in June, 1029, with Mark Reinstra, BSIE and a Wilson Sonsini Goodrich and Rosati start up attorney in San Francisco, hosting their second meeting.  It was a glorious evening on the 51st floor,  looking out at Mount Rainier and Puget Sound.  Reinstra spoke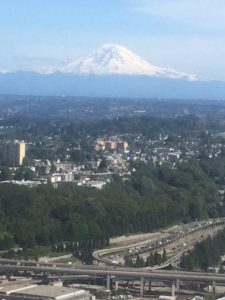 about company legal structures, taxation, Valuation, Boards, founders, stock ownership, and "what can go wrong".
His sage advise is to have a partner, organize early with tough conversations about roles, responsibilities and ownership.  He cautions about abiding laws, taxation and relationships.
The 17 attendees were a terrific blend of all ages, backgrounds, and degrees — from large companies (Amazon, Boeing, Microsoft) to successful start-ups (Zillow, TerraPower) to small businesses and several start-ups in the works.  One person stated he liked the idea of a Badger network with good sensibilities and strong educational bonds.
A little known fact is that our speakers' father was Bucky Badger when he attended UW Madison!
Join the group on LinkedIn: https://www.linkedin.com/groups/13701222/