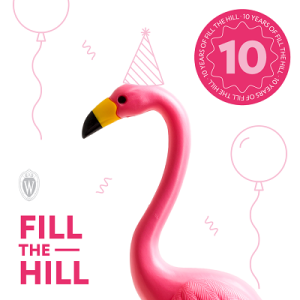 Fill the Hill returns! From 5pm on Thursday, 10/20 through 5pm on Friday, 10/21, a pink lawn flamingo will be placed on Bascom Hill for every donation made. Click here to donate to CS starting Thursday at 5pm.
This year in CS, all donations will support the CaTaPuLT program: UW-Madison students enrolled in CS 402 teach programming to Madison public school 4th and 5th graders. We need your help to support our clubs here in Madison and expand  throughout Wisconsin – the Wisconsin Idea at work!
Missed Fill the Hill but still want to donate? Click here!